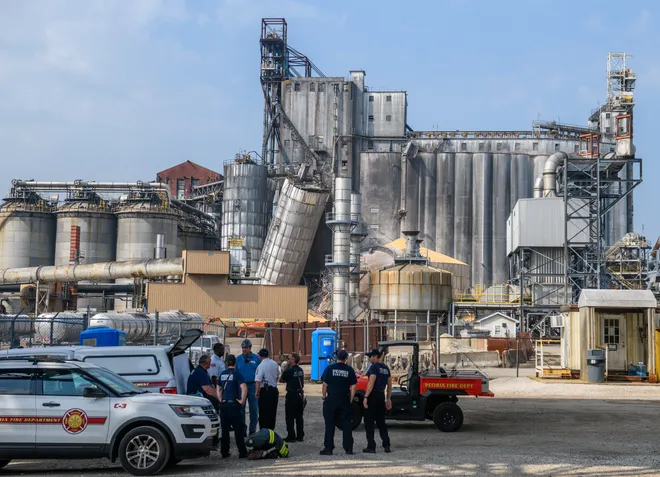 The two employees who were injured after a grain bin explosion in South Peoria have been released from the hospital, a company spokesman said Thursday.
«They were exposed to smoke but taken to the hospital to make sure they were OK. They have since been discharged,» said Scott Carey, a BioUrja Renewables spokesman.
Carey confirmed that the U.S. Occupational Safety and Health Administration was at the facility, located off Southwest Washington Street. The facility is currently shut down.
«We are still assessing what is the root cause of the problem, and we are doing that today. Basically, one of our steel grain bins imploded and caused a fire within the bin that led to the explosions that occurred,» he said. «Beyond that, I don't have much information to divulge.»
When firefighters arrived Wednesday night just before 9 p.m., they found several large grain bins that were on fire and heavily damaged.
Three silos were leaning over and one had collapsed, said Battalion Chief Steve Rada of the Peoria Fire Department.
Due to the severity of the incident, crews were unable to enter to fully extinguish the fire. Firefighters were monitoring the situation from a distance due to structural issues as well as a high level of carbon dioxide in the atmosphere. The area was cordoned off and there was no danger to the public, Rada said.
According to other OSHA investigations, the dust in grain bins is so fine that a spark can trigger an explosion.
Members of the Peoria Fire Department left the scene around 1 p.m. Thursday, said Rada, some 16 hours after being called out just before 9 p.m. Wednesday. BioUrja continues to monitor its facility.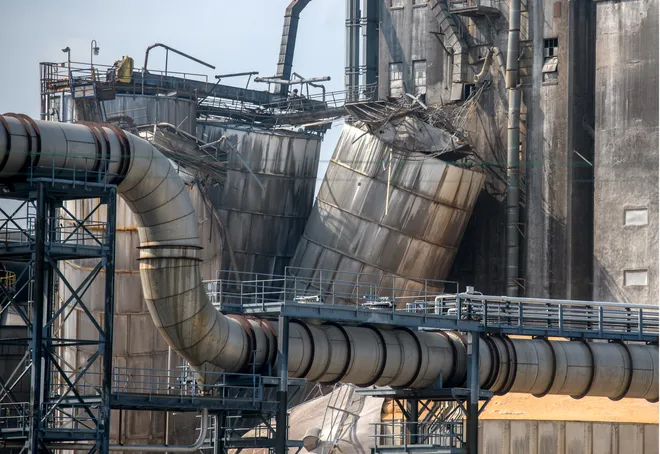 Carey said there is no other damage to the facility other than to the four grain bins. When asked about the age of the silos, he said he did not «know the vintage, but they were certainly not new.»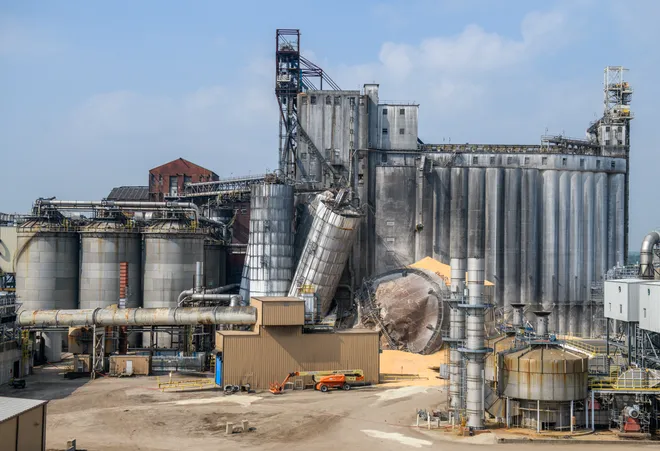 Damage to the facility was estimated to be more than $2 million, the Fire Department said, and the incident is still under investigation. 
The company, Carey said, is also looking into what happened.
«Our No. 1 priority is assessing the problem and then making sure that when we do restart the facility, it's done in the most safe manner possible,» he said. 
BioUrja purchased the site from ADM late in 2021. The plant produces three grades of ethanol: medical grade (used in hand sanitizers and for medical uses), beverage grade and fuel grade. 
https://www.pjstar.com/story/news/accident/2022/05/12/explosion-biourja-ethanol-plant-peoria-sends-two-hospital/9743767002/